The Dinner Table Syndrome
Dad is eloquent. Mom is helpful.
Morning!
It all started with an immense frustration of my own self. (I am working on being kind to that person but sometimes well, can't help.)
Why is it that women in general - and me in particular - are too often sneaking away from a dinner debate as soon as it becomes intense ; even unconsciously?
How is that a problem?
The less we practice the art of developing arguments, the less good we become at it. The less confident we are. The less we dare to practice. See the circle? Put it differently: there's no shortcut to being good at constructing (and winning) arguments.
(And nope, watching ain't playing.)
Why is the above so important? One could ask.
First, because eloquence gives confidence, and confidence is an underrated thing that can do miracles in any aspects of our lives ;

Second, because every cut short debate is a missed opportunity to learn from others. Of course, it implies setting our egos aside at a time when bad faiths around the table are probably running the show.
Damn, this is it
About six months ago, we were having dinner at home, with two good friends, Max (our lifetime co-founder) and Julie (our friend from the startup world in Boulder). While the conversation was pretty deep about what it meant for her to publish the book she had been working on, all of a sudden I disengaged, got out of the table to go grab desert (a yummy apple crumble - but this you don't care so much). Kev stared at me with a deep look that meant 'sit-down-please'(or-else-we'll-have-to-pause-the-conversation). I didn't like that look, so I went ahead and served desert anyway. The conversation did shift, and I felt terrible about it.
This is when I realized the many, many times, I had seen this scene happening in my life. An intense conversation, and one (or more) female participant(s) suddenly stepping out, of their own will. "Their own will?! Who else's gonna bring the next meal?" is what I first told Kev. Silence. Maybe the next meal could have waited a bit longer. Or maybe we could have made an announcement: "OK guys, hold your arguments and let's hit pause for a sec, we're gonna grab desert", before actually doing so.
Never have I seen my man or any other man opting out from a debate to do a household duty. And mine is a pretty feminist dude. So it obviously triggered long conversations!
While I did witness old-fashion households where women were given instructions to bring on the next meal, in most cases, and especially in today's households, men are not giving instructions. We, ladies, stand up and leave the table of our own will. Without even realizing it. And this prevents us from sticking into a conversation, from being all-in, from developing arguments and standing against, from embracing the uncomfortable and becoming great at it.
Now that I am aware, I can't help but seeing this situation everywhere. Have you?
Where does it come from?
Is it a consequence of our education, our role models? As if we had developed this subconscious acceptance that the household bandwidth will be ours to carry along, forever. When I see a woman stepping out to clear the table, I can't help but help. So that makes two women out.
Or is it an excuse we give to ourselves, so that we can opt out from an uncomfortable situation or topic? After all, it is socially accepted for a woman to 'have to go' : the oven to monitor, the next meal to serve, a kid to wipe,... Men are expected to have an opinion from an early age, and will be bullied if they opt out or become too sensitive, while I am afraid it ain't the case for humans with a vagina.
… or both, depending on context?
I know it ain't pleasing to read. But what I am raising here is a problem, a big one. Because this behavior I am seeing everywhere is much likely correlated to us women being less eloquent and confident (in general), and by extension, underrepresented at the top of the decision-making entities
. I am no expert on this matter but I find this quite intriguing. We know as much as men. But we don't dare as much. We can always hide behind excuses. That trap is calling us.
My own traps
At 24, I took a job in a small recruitment company in Singapore, all while I barely knew anything about the sector, the job or recruitment. (Good recommendations work!). Without realizing it, I think it was the best job I could have hoped for, for it pushed me out of my comfort zone pretty violently. Three weeks in the business and still no call made (excuses = top level), I knew I had to change gears. I became outspoken, asked -sometimes stupid- questions,.. and started owning my mistakes and successes. This experience probably was the trigger to my entrepreneurial journey.
Yet I have countless examples of myself unconsciously hiding behind excuses. When I feel it coming, my ego usually steps in and kicks me in the butt. But sometimes, it's pretty comfy to let someone speaks out for me. In my world, I often let Kev pitch our company - he's used to doing it, after all. Up until that week in Brussels where I realized I was just as good as him doing so.
Memories
In my most distant memories, I still can recall the voices of my great-grand-dad, grand-dad and great-uncle arguing on politics. I can not recall the voice of one single lady, although we were all sharing the same meal.
Later on, I understood that it ain't because you're talking loud that you know s***. It's sometimes even the opposite that happens. But well, it can be enough to shut down the least vocals of us. Those who like the intellectual exercise will at best shut up and listen. Others will go away.
I have done countless family dinners where I'd seen my mom stepping out from a discussion to clear the table, leading the "it's over" movement. And I am now seeing friends dinner heading this way. So I am seriously asking myself what is the chicken or the egg in clichés taking over : provocative men Let's start that freaking debate, he he! and sensitive women Oh, f*** it! [Drops the fork, irritated]. Really? At least that's been my model for a bit more than three decades.
What we can do
I want to raise this topic for the girls my age. For our generation and the following. We are now the ones hosting dinners. So it is on us to change the narrative.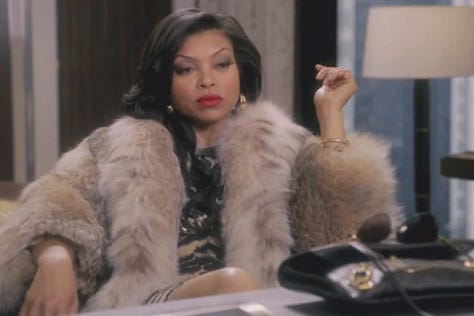 Charisma is the right balance between being warm and being sharp, according to Vanessa Van Edwards
. We need to sharpen our arguments.
I feel the urge to point this out, because we need girls and women who can stand for their opinions, trigger a debate, argue and make themselves listened. We are the role models of the next generation, at home, with our friends, at work. So if we opt out from animated talks, how are we going to change the status quo?
I can talk my two boys into what women should say and do. In the end, what they will recall is the way I, the way we act in a given situation. Dad is eloquent. And so is Mom.
Our rules moving forward:
no one moves! (I think I needed to set this down on paper as a commitment to myself to sit the f*** down when it is so tempting to go grab the fondant)

make sure everyone gets to speak, not only the loudest ones

prepare dinner ahead (as a couple) so everything is ready

if I/someone really need(s) to walk out - then we pause the conversation
While we are stepping into the festive season, with potentially large family dinners ahead, I am inviting you to pay attention ☺️
Yours,
Mathilde
Thanks for reading A Wander Woman! Subscribe for free to receive new posts 💋